MS Outlook (or Express) POP3 settings
Keeping or removing a copy of your mail on our servers
---
If you use Outlook or Outlook Express to check your MartNet email (whether you have a Dial-up Account or host a website with us), you may not know that your email is stored locally on the machine you check your mail on. By default, Outlook or Outlook Express (referred to herein as OE) downloads a copy of your email, shows it to you on your computer, deletes it from our machines, and stores it in folders on your hard drive.
Normally this is ideal. Even if you have 4,762 messages you've never deleted in OE, your MartNet account is prevented from filling up. However, there may be times you need to refer to messages while away from your primary computer. By using MartNet Webmail, you can check for new messages on the road; since anything previously seen with your client is no longer on our servers, however, you will not see it.
This page will show you how to set OE to leave a copy of everything you read on our servers, so you can refer to it with Webmail from any other computer. Anywhere. However, it cannot be stressed enough that you must then make sure to manually delete anything and everything you don't need, or those 4,000 messages you're saving will quickly choke your MartNet account, you won't get any more email, and you'll end up having to e-mail us to wipe everything out to fix it. Proceed with caution, and only do this if you understand the maintenance and attention required.
First, you need to start Outlook, of course. Go to the Tools menu and select the Accounts... option. You should see something that looks like the below.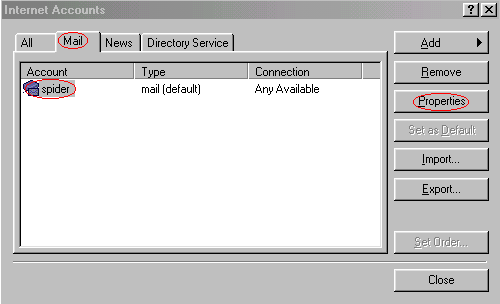 Click on the Mail tab, then on the account you want to change, then on "Properties" on the right. Then click on the Advanced tab at the top, look towards the bottom for this check box, and check it off so it appears as shown:
Those two "Remove" options following are very important for you to understand. Using them may save you a lot of trouble with maintaining your account and having to manually delete things. The first option, remove after X days, checks the age of every message on our servers when you start OE. If it's older than the time specified, it will be automatically deleted... whether you wanted to keep it or not, and without your permission! However, it will prevent you from having to go through and delete hundreds of emails every few months. The second option (you can use both or either) is simpler - when you "delete" items in OE it actually moves it to a trash folder. It isn't actually deleted from your computer unless/until you empty that trash folder. Selecting this option will clear things from the server as well as your hard drive whenever the trash is emptied in OE (NOT the 'recycle bin' on your desktop!).
When you have things the way you want, click "OK," and then back at the accounts screen, click "Close:"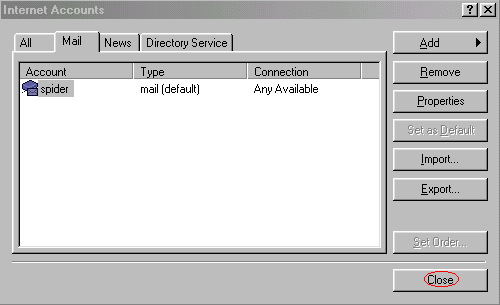 And you're all set!

This Web Site is proudly built upon an Open Source foundation:




---
Home | Services | Support | Members | Software | Contact